Apple is preparing to start supporting digital car keys in the Wallet app for two new car brands: Hyundai and BYD. This feature allows users to lock, unlock, and start their vehicles using a pass card stored in Wallet on their iPhone or Apple Watch, and Ultra Wideband with Express Mode in iOS 15 can automatically lock and unlock a compatible vehicle upon approach without having to wake your device.

BMW was the first manufacturer to launch digital car keys in Wallet in 2020, and two months ago Apple began listing several Genesis and Kia models as support for functionality. Over the past several days, Apple has added entries for both Hyundai and BYD to its Apple Pay configuration file. A similar change last September revealed the pending addition of Genesis support.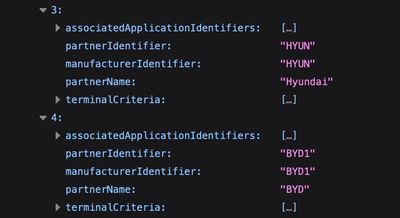 Hyundai's inclusion in the list of car brands that support digital car keys on iOS didn't come as much of a surprise, considering that Genesis and Kia were among the early adopters. Genesis is Hyundai's luxury brand, while Hyundai is Kia's largest shareholder and the two companies are closely related. Bloomberg It also reported in January that both Hyundai and Genesis models would add the feature "by summer."
BYD is a Chinese brand that is trying to expand into other countries and recently announced that it will exclusively sell hybrid and full electric cars.
We haven't yet heard of any specific models of the two brands that will support digital car keys on the iPhone‌ and Apple Watch, but a number of Hyundai models have supported digital car keys on Android for several model years.
popular stories
Top stories: WWDC 2022 schedule, new Apple Watch Pride Bands, and more
It's Memorial Day weekend in the US, and that means the WWDC conference is right around the corner and anticipation builds for what we might see in the opening speech. Software updates given, but will we see any new hardware? Other news this week included the annual release of the new Apple Watch headphones titled Pride, rumors of the iPhone 14 Pro, and Sony's latest headphones that rival…
Hints of 'reality' trademark filing in a potential WWDC ad [Updated]
A little more than a week before WWDC kicks off, details of an exciting trademark file for "reality," the name of Apple's upcoming AR/VR headset operating system, have been resurfaced online, providing evidence of what Apple may have in store to share in conference this year. Parker Ortolani re-highlighted the two separate trademark profiles (1, 2) on Twitter, who noted that while…
Gurman: Apple prepares to debut improved lock screen, lock screen in iPadOS, redesigned Mac apps, and more at WWDC
Apple plans to release an improved lock screen with iOS 16, improved multitasking performance in iPadOS 16, improved navigation in watchOS 9, additional smart home features in tvOS 16, a redesign of apps in macOS 13, and more, according to Bloomberg's Mark Gorman. In the latest issue of his "Power On" newsletter, Gorman outlined his predictions for all upcoming Apple operating systems, including…
The redesigned iPhone 14 Pro and MacBook Air are said to be stuck using the technology behind the A15 chip
The iPhone 14 Pro's "A16" chip may be a minor upgrade over the iPhone 13's A15 Bionic, and there are growing questions about the nature of the "M2" chip, according to popular Apple analyst Ming-Chi Kuo. Earlier this week, a leaker known as "ShrimpApplePro" assumed that the A16 chip for iPhone 14 Pro models would be manufactured in the same process as the iPhone 13's A15 Bionic,…
iPhone 14 Pro is rumored to feature Always On Display
The iPhone 14 Pro and iPhone 14 Pro Max may feature an always-on lock screen mode, according to Bloomberg's Mark Gorman. In his recent "Power On" newsletter, Gorman outlined some of the changes scheduled for iOS 16, iPadOS 16, watchOS 9, tvOS 16 and macOS 13 at Apple's Worldwide Developers Conference (WWDC) this year. Among the new capabilities rumored to be iOS 16 is to improve …
iOS 16 Wish List: The MacRumors Features Readers Want to See in the Next Release of iOS
There's just over a week left until the 2022 Worldwide Developers Conference, one of Apple's biggest events of the year. We've heard surprisingly little about iOS 16 this year, so we're on our way to some big surprises when June 6 comes. While we wait for the main event, we thought we'd share some iOS 16 wishlist items from MacRumors readers, because who knows? We just had…
.